Industries Served
Contact Us
55378 Lyon Industrial Dr.
New Hudson, MI 48165
Phone: 248-446-9771
Fax: 248-446-9772
Email: supmac@sup-mac.com
Web Address: sup-mac.com
Superior Machining Inc. has been servicing industry needs since 1988. We have been QS 9002 Certified since 1999 and we continue to develop ourselves in our ever-changing industry. We are committed to provide excellence in our product quality and integrity in our services so that our customers will be more competitive in today's world economy.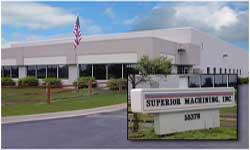 Our Valued Clients
When considering Superior Machining Inc. for your next production project, please feel free to view our growing list of satisfied clients.
We work together with our customers to create successful results utilizing our specialized equipment and persistence to achieve the desired results.